Coral City by Coral Morphologic
https://www.projectionsofacoralcity.com/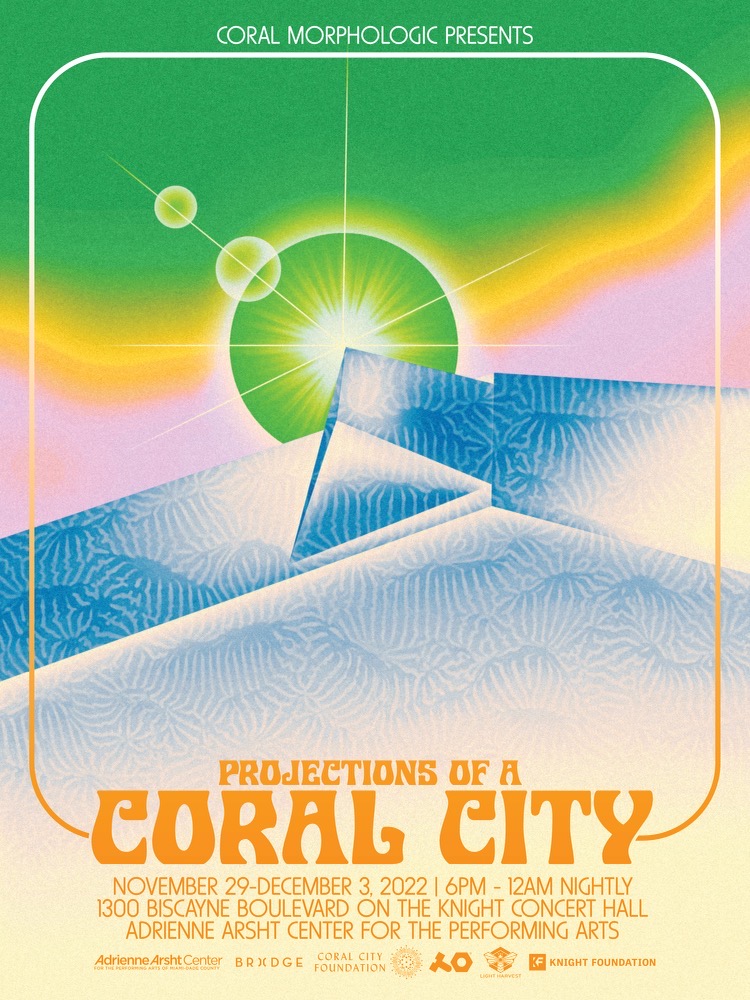 Projections of a Coral City was presented on the exterior of the Knight Concert Hall nightly, 6PM-12AM, during Miami Art Week from Tuesday, November 29 through Saturday, December 3, 2022. The large-scale projection-mapping installation, which featured macroscopic images of corals native to Miami and from around the world, was a monumental artwork and the largest projection of corals ever presented globally. Projections of a Coral City was made possible through the support of the John S. and James L. Knight Foundation.

Mary Lindstrom is responsible for creating generative transitions and compositing for the "Overgrowth" film. Generative visuals were made in TouchDesigner.

Miami is a coral city. Built with marine limestone mined from the Everglades, its concrete skyline stands like corals colonizing the fossilized reef ridge on which the city was built. Miami and its maritime environment are inextricably connected geologically, historically, culturally and economically. Engaging residents and visitors with Miami's coral reefs and waters connects them to the literal foundation of the city and to its future.
The corals featured in Projections of a Coral City were grown on flat tiles and 3D-printed scale models of the Knight Concert Hall over many years in Coral Morphologic's Miami laboratory, and subsequently photographed and enlarged to envelop the building's southwest side. These aquacultured corals include the colorful, native Ricordea florida corallimorph. Corallimorphs are an understudied group of soft corals that scientists predict will proliferate in a world where oceans are acidified and stony corals can no longer calcify into reefs. Projections of a Coral City reimagined the Knight Concert Hall's terraced form designed by architect César Pelli as an ever-morphing coral head and, as the sea-level rise projections referenced in the project's title portend, suggests how the City's buildings and infrastructure might be reclaimed by coral as an artificial reef should humanity not act to prevent and mitigate sea-level rise.

An ambient soundscape foreshadowing the City's future by Coral Morphologic and Nick León played in tandem with the projections on the Arsht Center's Thomson Plaza for the Arts on Biscayne Boulevard.

In conjunction with the installation, Coral Morphologic launched the non-profit Coral City Foundation, whose mission is to protect, document, research and raise awareness of the pioneering urban corals colonizing Miami's artificial coastlines. The Coral City Foundation builds off Coral Morphologic's successful citizen science and art project Coral City Camera, a live stream of the underwater world at the east end of PortMiami.